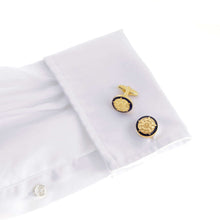 The English Rose Gold Cufflink
In blue and gold, the rose is the true mark of the English romantic.
One of England's national symbols, the English Rose was also known as the Tudor Rose, adopted by Henry VIII to represent peace, merging the rival red and white roses of Lancaster and Yorkshire. The English Rose is an enduring icon that captures both a sense of romantic longing and great reconciliation. Various national sporting bodies have adopted it, including the English national rugby team. As such it is a perfect representation of nobility in sport, evoking the unexpected gracefulness that can appear on the muddiest of playing fields.
FREE standard delivery in the UK, EU and USA on all Wimbledon Cufflink Company's products
Availability:
39 In Stock