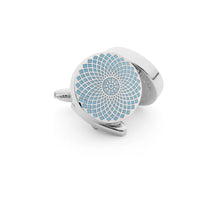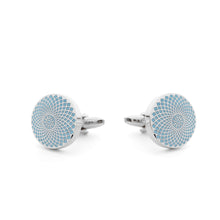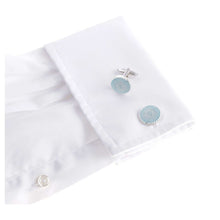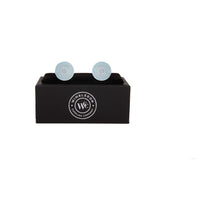 The Gherkin Cufflinks
 A Tribute to London's Architectural Marvel
Introduction: When art and architecture meet fashion, the result is something truly remarkable. "The Gherkin Cufflinks." These elegant cufflinks draw inspiration from one of London's most celebrated landmarks, the Gherkin, and they bring the spirit of modern design and innovation to your attire. In silver colour and light blue these cufflinks are truly bespoke.
Design Inspiration: The Gherkin, officially known as 30 St Mary Axe, has graced London's skyline with its distinctive silhouette since its completion. With "The Gherkin Cufflinks," we've captured the essence of this architectural marvel in a stunning combination of light blue and silver. The design pays homage to the tower's sleek curves and its ability to stand out as a beacon of modernity in the heart of the city.
Crafted with Precision: Every pair of "The Gherkin Cufflinks" is a testament to precision craftsmanship. Just like the Gherkin itself, these cufflinks showcase meticulous attention to detail, ensuring that every curve and angle is faithfully recreated in silver, complemented by the serene beauty of light blue.
Versatile Elegance: "The Gherkin Cufflinks" are more than just accessories; they are a statement of your appreciation for modern design. Whether you're attending a business meeting or a special event, these cufflinks add a touch of elegance and sophistication to your outfit.
A Tribute to Modern London: London is a city that thrives on innovation and creativity. "The Gherkin Cufflinks" embody this spirit, celebrating not just a building but the dynamic and forward-thinking essence of the city itself.
Elevate Your Style: Make a bold statement and elevate your style with "The Gherkin Cufflinks." Whether you're a fan of contemporary architecture or simply appreciate finely crafted accessories, these cufflinks are a must-have addition to your collection.
Get Your Pair Today: Embrace the spirit of modern London with "The Gherkin Cufflinks." Own a piece of architectural elegance that you can wear proudly.
Conclusion: "The Gherkin Cufflinks" are more than just cufflinks; they're a symbol of your admiration for design, a conversation starter, and a tribute to London's innovative spirit. Step into a world of modern elegance with this exquisite accessory.
 FREE standard delivery in the UK, EU and USA on all Wimbledon Cufflink Company's products
Availability:
50 In Stock